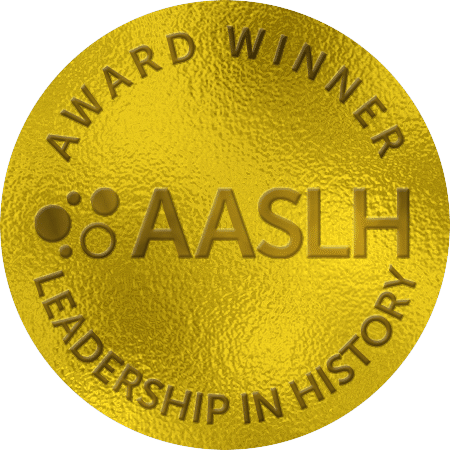 The American Association for State and Local History (AASLH) proudly announces the winners of the 76th annual Leadership in History Awards, the most prestigious recognition for achievement in the preservation and interpretation of state and local history. This year, AASLH is proud to confer forty national awards representing twenty-two states honoring people, projects, exhibits, and programs.
"It is always inspiring to see the amazing work of individuals and organizations across the nation through the Leadership in History Awards program," said Christy Crisp, National Awards Chair, "but the challenges we have all faced over the past eighteen months make the incredible work displayed through this year's award-winning projects all the more extraordinary. From quickly restructuring planned exhibits to serve online learners, to developing unprecedented collecting collaborations, to creating platforms for discussion and interaction in communities struggling for connection, the projects represented in this year's Leadership in History Awards truly illustrate the creative, dedicated, and tenacious spirit of the many organizations—large and small—that make the Awards program so exciting."
The Leadership in History Awards Program was initiated in 1945 to build standards of excellence in the collection, preservation, and interpretation of state and local history throughout America. Each nomination is peer-reviewed by AASLH's state captains. Final awards are decided by the Awards Committee, comprised of AASLH's fourteen regional representatives and the National Awards Chair.
The awards include:
The Award of Excellence which is presented for excellence in history programs, projects, and people when compared with similar activities nationwide;
 The Albert B. Corey Award is named in honor of a founder and former president of AASLH, and recognizes primarily volunteer-operated historical organizations that best display the qualities of vigor, scholarship, and imagination in their work. The 2021 recipient is the Cache Celebration of Women's Suffrage Committee (UT).
The HIP (History in Progress) Award is given at the discretion of the awards committee to 5% or less of the total winners of the Award of Excellence. It is for a project that is highly inspirational, exhibits exceptional scholarship, and/or is exceedingly entrepreneurial in terms of funding, partnerships, or collaborations, creative problem solving, or unusual project design and inclusiveness. The 2021 recipients are the Greensboro History Museum (NC) and the Orange County Regional History Center (FL).
Presentation of the awards will be made at a special reception during the 2021 AASLH Annual Meeting in Little Rock on Friday, September 24. The reception is supported by a generous contribution from HISTORY™.
Winners by State
Dr. Gerald W. Haslam (CA)
History Colorado for What's Your Story? (CO)
Keeler Tavern Museum & History Center for Sisters (CT)
Connecticut State Library for Digging Into History: WWI Trench Restoration in Seicheprey, France (CT)
Orange County Regional History Center for Yesterday, This Was Home: The Ocoee Massacre of 1920 (FL)
Dubuque County Historical Society and The National Mississippi River Museum & Aquarium for Iowa Marine Engine & Launch Works (permanent exhibit) (IA)
Brucemore for Brucemore and Feed Iowa First Historic Garden Project (IA)
Iowa Museums Association for Teaching Iowa History (IA)
Idaho State Historical Society and Old Idaho State Penitentiary for Disturbing Justice (ID)
Idaho State Historical Society and Old Idaho State Penitentiary for Behind Gray Walls (ID)
Minidoka National Historic Site for Minidoka Park Film (ID)
Elkhart County Historical Museum for Crossroads of Elkhart County (IN)
Monroe County History Center for Monroe County Women in the Suffrage Movement (IN)
Johnson County Museum for Johnson County Museum Responds to COVID-19 (KS)
Somerville Museum for The Basement Project (MA)
Baltimore Museum of Industry for Women of Steel (MD)
Jim Lighthizer (MD)
Maine Contemporary Archives Collaborative for Maine Contemporary Archives Collaborative (ME)
Brick Store Museum for Century Saturdays Series (ME)
The National Museum of Toys and Miniatures for Bridging the Gender Divide: Toys That Build STEM Skills (MO)
Mississippi Department of Archives and History for Mississippi Distilled: Prohibition, Piety, and Politics (MS)
North Carolina Museum of History for How We Got That (NC)
Cape Fear Museum of History and Science for Wilmington Massacre and Coup D'État of 1898—Timeline of Events (NC)
Greensboro History Museum for Pieces of Now (NC)
The Mob Museum for The Future of Policing (NV)
National Afro-American Museum and Cultural Center for Queens of the Heartland exhibit (OH)
Alliance Historical Society for Marking Time in Alliance (OH)
Dayton International Peace Museum for Dayton Peace Accords exhibit (OH)
Oregon Heritage for Community-wide Disaster Resilience Plan for Heritage Resources Model & Guidebook (OR)
Museum of the American Revolution for Cost of Revolution: The Life and Death of an Irish Soldier (PA)
Fort Pitt Museum and Heinz History Center for Pittsburgh, Virginia: A Tale of the Ohio Country Frontier (PA)
Ephrata Cloister for 2020 Virtual Holiday Programming at Ephrata Cloister (PA)
The Library Company of Philadelphia for Ghost River: The Fall and Rise of the Conestoga (PA)
Messiah University, Harrisburg University, and Community Partners for The Digital Harrisburg Initiative (PA)
Southlake Historical Society for Bob and Almeady Chisum Jones: A True Story of Resilience, Courage, and Success (TX)
The Neill-Cochran House Museum for If These Walls Could Talk (TX)
Utah Division of Arts & Museums and Utah Humanities in partnership with the Utah Division of State History for STEPS-UT Pilot Program (UT)
Virginia Museum of History and Culture for Today's Agents of Change—Female Activism in Virginia from Women's Suffrage to Today (VA)
Vashon-Maury Island Heritage Association and Frisky Divinity Productions for In and Out: Being LGBTQ on Vashon Island (WA)
---
For more information about the AASLH Leadership in History Awards, visit aaslh.org/programs/leadership-in-history-awards.