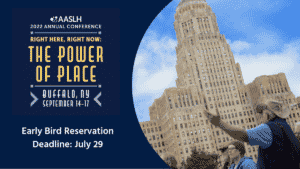 Register for the 2022 AASLH Annual Conference by Friday, July 29 to receive the early bird discount. AASLH members receive additional discounts and the best prices on registration.
The conference takes place in Buffalo, New York, September 14-17. This year's theme is "Right Here, Right Now: The Power of Place" and the conference will explore how history is powerfully connected to our sense of place.
Experience the Power of Place at our learning sessions, which are presented in nine different formats. These formats are designed to create a more retreat-like experience, allowing you to deeply engage with other participants and the ideas presented in each session.
Experience the Power of Place at our unmatched evening events at unique locations, including the Buffalo History Museum, Buffalo's Canalside waterfront, and a street party on Michigan Avenue, the center of Buffalo's African American heritage.
Come to the conference to see colleagues you may not have seen in person for a couple of years, to make new connections, and to experience the inspiration that comes from being with other history doers.