Exciting changes are happening at the 800+ organizations taking part in the StEPs program (Standards and Excellence Program for History Organizations).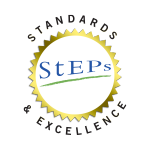 Our "StEPs Spotlight" series highlights accomplishments by the participating organizations. 
Join us each month to read how StEPs is helping these organizations take a leap forward by improving policies and practices, opening lines of communication, and setting goals for a bright future.
Black Heritage Society of Washington State

The Black Heritage Society of Washington State was first proposed in 1977 and then incorporated in 1982.  Preserving, collecting and sharing the history of African Americans in Washington State are the priorities that shape the BHS mission.
BHS founders began a campaign to acquire memorabilia, photos and oral histories to document the history of NW African Americans.  This initial effort grew with much enthusiasm and interest to build a solid membership, exhibits and collections that are an important public asset.
The Society accomplishes its mission through the help of numerous community volunteers and a nine-member board of directors. It enrolled in StEPs in 2011. BHS manages its collections at shared facilities with the Museum of History & Industry in Seattle.
BHS was introduced to the StEPs program through 4Culture, a Public Development Authority (PDA) in King County that supports the arts, promotes heritage programs and partners with organizations on preservation efforts. 4Culture has supported BHS' vision since 2010.
What would you say is the most significant improvement within your organization as a result of taking part in StEPs?
BHS is embracing organizational growth with a two-fold approach that honors its founding principles while subscribing to 21st century tools. Capacity building evaluations, prioritizing goals and objectives, and strategic planning are the clarity StEPs provides so we can strive to earn Gold certificates in the program.
Can you offer specific examples of other positive changes within your organization as a result of the StEPs program?
StEPs encourages BHS to seek valuable partnerships and alignments that link local heritage organizations to effectively strategize, share challenges/successes, and unite for common cause. As a result, BHS Board communication has improved with a common language to describe and achieve clear, obtainable goals.
Tell us how your organization is making its way through the program.
With our oral histories, memorabilia, ephemera and artifacts that represent the heritage and culture of NW African Americans from the late 1890's to today, BHS prioritizes its collections as a major purpose so we initially began with the Stewardship of Collections section. The Collections Committee has set the goal of earning the Gold certificate in collections this year. Completing this section guides and reinforces BHS collections best practice management.
In reviewing other sections of the StEPs workbook, we see how complete BHS is in other areas. We strive to build on our improvements and accomplishments. BHS will turn its attention next to the Mission, Vision, and Governance section.
Has your organization been able to use StEPs as leverage in fundraising or in other ways?
Alignment to StEPs has given BHS grant opportunities to improve its board capacity and collections management.
What advice do you have for organizations just getting started in StEPs?
StEPs is a great program to help center an organization's energy and focus. Don't let the workbook overwhelm you but let it support your goals and objectives. Make sure you are achieving the certification because the organization earned it and remember, quality over quantity is important.
Also, designate a "Keeper" of the workbook with responsibilities that will help to maintain momentum, record achievements and regularly report on the organization's status.
Finally, which section of the workbook has been your favorite?
Undeniably, Stewardship of Collections is on top for BHS. Our heart and vision is in sharing our collections in the best managed condition possible. BHS is committed to maintaining an accessible public resource for students, educators and all who express interest in the history and rich culture of African Americans.
Our thanks to Stephanie Johnson Toliver for providing information for this blog post.