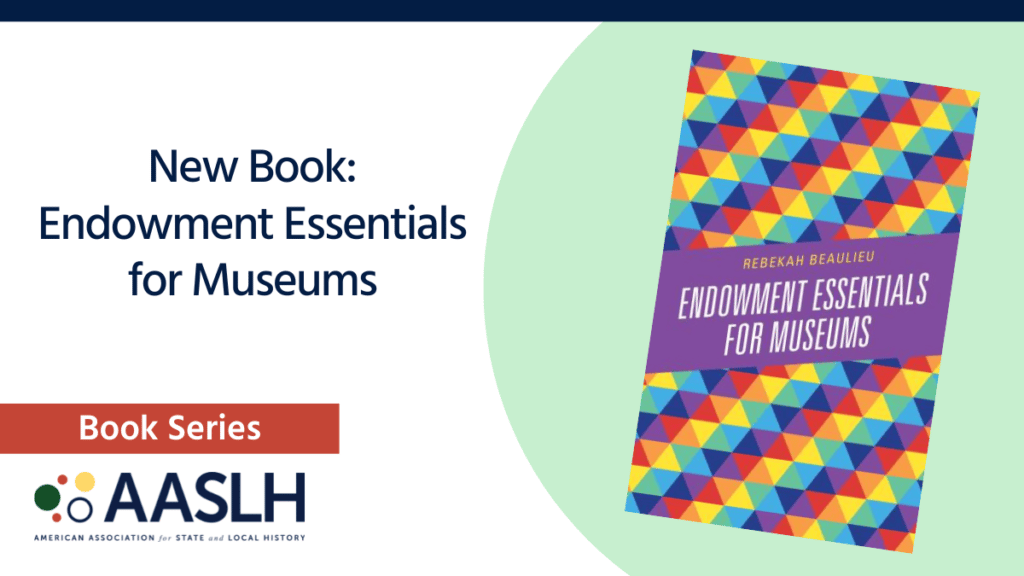 A stable and well-managed endowment can be the key to a museum's financial strength. But how do you establish and maintain an endowment that is right for your organization and its future?
The newest title in the American Association for State and Local History (AASLH) Book Series answers these questions with easily accessible language and case studies of real museums. Endowment Essentials for Museums provides guidance on the establishment and oversight of endowments, including how to:
Plan for and build an endowment fund
Create opportunities to grow the endowment through fundraising and investment management
Incorporate endowment management into institutional planning
Foster transparency and shared knowledge about endowments between staff, trustees, and community members
Evaluate and modify endowments accurately and according to best practices.
Attending to endowment management at all stages, incorporating references from across the nonprofit spectrum, and designed to resonate with readers from a variety of backgrounds, Endowment Essentials for Museums invites forward-thinking museum professionals, trustees, and volunteers to enhance their knowledge about the endowments and the integral role it plays in the health of your museum.
Endowment Essentials for Museums is written by Rebekah Beaulieu, editor of the AASLH Book Series and member of the AASLH Council. Beaulieu obtained a doctorate in American Studies from Boston University, with a dissertation that studied financial models in historic house museums. She has just been named the new president and CEO of the Taft Museum of Art in Cincinnati, Ohio.
Now through September 30th, everyone can receive 30% off this book when using code 4F22EEM at rowman.com. AASLH members receive 20% off our books year-round with our membership discount code. This code can be found in the new member packet. Members can also contact our office to obtain the code.
Meet the Author at the 2022 AASLH Annual Conference
Rebekah Beaulieu will be signing copies of her book on Thursday, September 15 from 3:15 – 4 p.m. at the Rowman & Littlefield booth in the exhibit hall.
Interested in Publishing with AASLH?
We are always looking for authors for books, History News magazine, Technical Leaflets, and the AASLH Blog. Share your idea with Aja Bain, Program and Publications Manager, at [email protected].