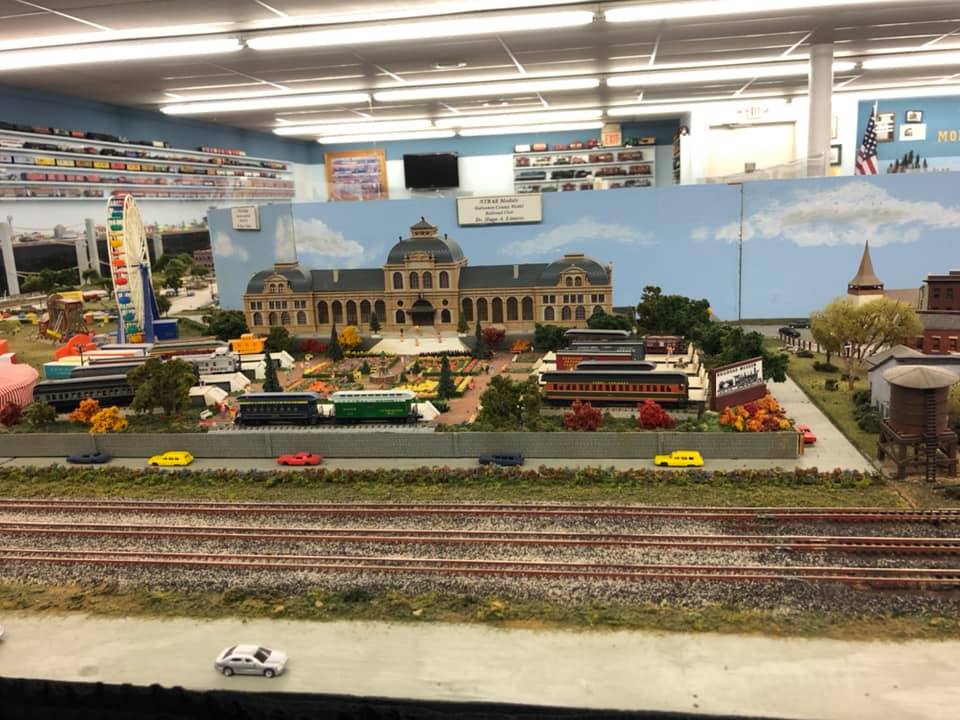 By Amanda Vance, Texas City Museum
Beginning May 1, Texas museums were allowed to open back up to the public. Here in Texas City, a town of about 50,000 people near Galveston, we had about three days to prepare the museum before we reopened. In order to comply with the governor's orders, we had to close all interactive areas in the museum, which means our entire second floor, our children's exhibit, and a small theater room. This was accomplished with a combination of doors, stanchions, and leaving lights off in rooms and displays. The TVs in exhibits are turned off and their push to start buttons are covered up. In the gift shop we moved as much merchandise as possible into enclosed cases, and covered up all of the shelves.
We have hand sanitizer at the front and back of the building for guests and at the desk for staff. The City provided us with disposable masks to offer anyone who comes in without face coverings; however, we are only allowed to request that people wear them. We are not allowed to deny entry to people who won't cover their faces. We have spray and wipes we use multiple times a day to disinfect areas, and a city worker comes by several times a week to spray the whole building. We take employee temperatures at the start and end of every work day. Employees are required to wear masks, and the City has also supplied us with gloves that we are to wear for customer interactions. In this phase of reopening we can only allow 25% of the building capacity in, but attendance has been so low that we have not yet had to turn anyone away.
The layout of our building really aided in our ease of reopening. Since we're located in a former JCPenney department store, there is plenty of space to allow visitors to spread out. During our 2011 remodel the exhibits were arranged in essentially a circle, so the flow is very obvious and natural without having to add extra signage or markings. One major downside of the layout is that the front desk, where tickets are sold and gift shop purchases are made, is a large circle in the middle of the foyer. This being the case, the setup did not all for us to effectively place any plexiglass barriers between front of house staff and the visitors. Instead, staff has to wipe down the desk and spray the area after each interaction. Thus far, interactions have been sparse enough to allow for this process. The City has provided us with Clorox wipes and Envirocleanse for this purpose.
We have added signage throughout the museum encouraging our visitors to cover their faces and to use the hand sanitizer, and we have posts on our social media and information on our webpage about this. Visitation has been extremely low, probably due to several factors. With the exhibit closures, the museum does not have any specifically child-friendly offerings, so families may not want to visit if the kids cannot play in our kid's room or see the model trains on our second floor. Another factor could be that because the majority of our audience falls into the senior age group and are therefore high risk, they may not consider a visit to the museum worth the potential exposure. We have not discounted our admission prices (we were already the cheapest place around), and some people might not want to pay full admission when they do not have full access to the museum. Some visitors may think that we are requiring face masks (we are not) and decide not to visit because of that.
The vast majority of the people that have visited since we reopened did not have a mask and refused the ones we offer at the desk. From personal observation, in addition to not covering their faces unless required, most people will also not use the hand sanitizer unless you specifically ask them to. Visitors also seem to be compelled to put their hands on or lean on top of table displays. Before reopening, we thought we had done a thorough job of closing off any areas where visitors would touch the displays, but we have found in our temporary exhibit area that many visitors walk up to the tables and stand with their hands on the plexiglass, reading the articles and looking at the photos underneath. While we originally thought it would be a low/no touch area, we are considering closing the temporary exhibit space as well. The silver lining to the low visitation is that we have been able to spray and wipe down surfaces after each group of visitors.  We are trying our best to maintain a healthy environment while remaining open for our community.
Amanda Vance is Curator at the Texas City Museum and serves on AASLH's History in Our Parks Task Force.
---
How is your institution coping with COVID-19? Share your ideas and experiments with the field on our blog. Email [email protected] to submit a blog post.