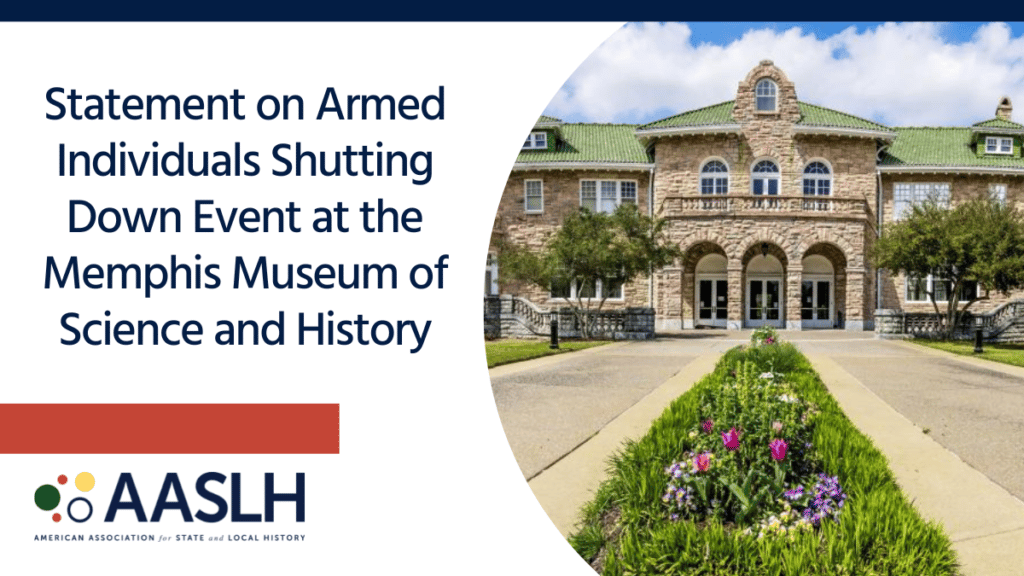 The American Association for State and Local History (AASLH) condemns the armed individuals who showed up at the Memphis Museum of Science and History on Friday, September 23 to intimidate museum staff, partners, and guests who had intended to gather for the Memphis Pride drag show and dance party. Out of concern for visitors and staff in a situation that rapidly turned hostile the museum decided to cancel the event before it was able to begin.
The Memphis Museum of Science and History is an AASLH member. We stand with the museum and the Memphis LGBTQ community who were targeted by the armed individuals.
This event was scheduled to celebrate the closing of two exhibitions about the history of the LGBTQ community's fight for equality and civil rights, "Rise Up: Stonewall and the Civil Rights Movement" and "Memphis Proud: The Resilience of a Southern LGBTQ+ Community." The latter was created with the assistance of a local LGBTQ advisory committee. These were the first exhibitions the museum has mounted specifically about LGBTQ people. AASLH supports history organizations in working with their communities to tell full and inclusive histories.
News reports indicate that these armed individuals were members of the Proud Boys, which the Southern Poverty Law Center has designated a hate group that supports white nationalism and transphobia. This group has a history of engaging in violence and intimidation, including showing up at libraries hosting drag story hours. Intimidating acts like these seek to shut down conversation and learning. They also seek to narrow definitions of what it means to belong to a community and what it means to be an American.
In our society, all people have the right to assemble peacefully, including to gather as a community to celebrate their history and achievements or to peacefully protest views they do not agree with. No one has the right to intimidate others through hate speech or the threat of violence.
Museums and history organizations must remain safe spaces for gathering, learning, discussion, and debate. AASLH calls on elected officials and authorities at the local, state, and national levels to do more to ensure that all Americans continue to have access to the inclusive display of history and peaceful exchange of ideas in museums.
On Tuesday, September 27, the American Library Association sent a letter of concern to FBI Director Christopher Wray that outlines the increasing number of bomb and shooting threats that have been directed at libraries this year. In the two weeks preceding the letter, five libraries closed due to these threats. The letter asks the FBI to initiate an investigation.