The Peacock House in Atlanta's Buckhead neighborhood sat for decades moldering under a maintenance plan of benign neglect.   Various owners had added on to the house, sold off land, and made repairs that were anything but sympathetic.  There were enough computer and fiber optic cables running through the duct work and baseboards to make the NSA cringe.  In short, the house was an elegant wreck.
The May Goodrum House, as it is more properly known, was designed in 1929 by renowned Southern architect Philip Trammell Shutze.  Completed in 1932, the home received an honorable mention by the Architecture League of New York, a rare honor for southern architecture; Shutze called it his "most favorite house."  High praise for a man most remembered for designing the Swan House (refer to The Hunger Games: Catching Fire, if you haven't visited).
Shutze designed the house in an English Regency style which incorporated elements of classical architecture and Asian inspired motifs.  The house is planar yet eclectic; staid yet whimsical.  The exterior glazes, as determined by Frank Welsh of Welsh Color and Conservation, were pale yellow with apple green shutters. A bright red door was surrounded by carved floral swags. Inside the foyer is dominated by a Chinese Chippendale balustrade painted fire engine red.  A Baccarat crystal chandelier once graced the hall, but came to a bad end during installation — a salacious story you will have to contact me to learn!
Swags of Southern flowers were carved by H.J. Millard to adorn the sitting room and hall.  Famed muralist Allyn Cox provided a whimsical trompe de l'oeil mural of Chinese acrobats for the dining room.  Cox would later provide murals for the U.S. Capitol building. Artist and bird lover Athos Menaboni painted a birdcage motif inside the octagonal breakfast room that included bamboo trellis, dragonflies, and parrots.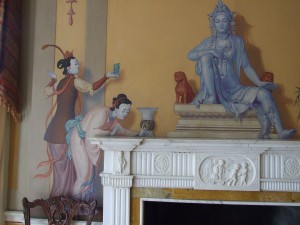 The gardens were no less elaborate than the manse.  A theater of boxwoods and an auditorium centered on a star-shaped koi pond.  An allee of bamboo led to a Gothic-style camellia hot house. A bowling green enclosed by a serpentine brick wall terminated in a howdah shaped folly.  And, an elaborate boxwood maze forming May Patterson Goodrum's initials graced the side yard; it was altered when she remarried!
The Watson-Brown Foundation purchased the property in 2009 with an eye toward restoring it to Shutze's original vision.   The exterior of the manse is nearly complete. Two acres of land were sold for development, so the grounds are being restored without the hot house and much of the bamboo allee, but the plant and tree varieties selected by Shutze are being replaced.  The murals and decorative carvings will be restored in the coming months by Atlanta Art Conservation.  By 2015, the Goodrum House will open as a house museum dedicated to the elegant architectural vision of Philip Shutze; we hope to see you there!
Michelle Zupan is the Curator & Director of Hickory Hill in Thomson, GA. She is the Chair of the AASLH Historic House Museums Committee