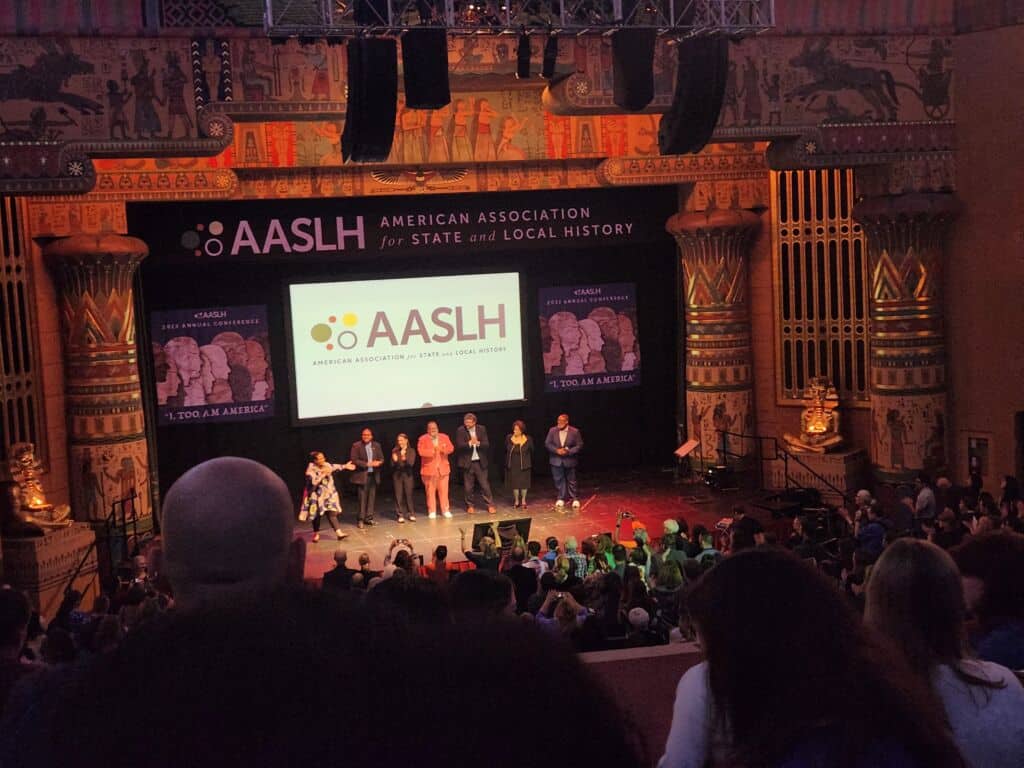 By Alyssa Vargas-Lopez, Museum Services Administrator, Pueblo City-County Library District, Pueblo, CO
The AASLH "I, Too, Am America" 2023 conference was truly life-changing! I had the privilege of attending the most enlightening and impactful sessions, exploring Idaho's stunning venues, and forging lasting connections and friendships. I am profoundly grateful for receiving a Douglas Evelyn Scholarship for Minority Professionals that made this opportunity possible.
During the first day, I explored Boise and participated in a tour on the Hispanic history of Boise, where I gained insight into ongoing migrant issues. The day culminated in a visit to the historic Idaho State Penitentiary. While it was occasionally unsettling, the experience exceeded my expectations. Exploring the jail cell buildings at night and listening to the guides discuss life as a prisoner left a profound impact on me, and I knew I had to return to Boise.
On the second day, I began my morning by learning about NAGPRA tips and tricks. Interestingly, the biggest takeaway from this session extended beyond NAGPRA, inspiring me to question my institution's archival policies and display practices and motivating me to delve deeper into objects I know little about. Later, I had the pleasure of attending the opening general session at the beautiful Egyptian Theatre (seen in the photo above). The venue was outstanding, and the diverse representation was affirming, making me feel like I truly belonged in my career and within academic circles. After the session, I attended a Meet and Eat event at a local restaurant, where I connected with other emerging professionals, many of whom I later encountered throughout the conference as we made an intentional effort to reconnect.
My afternoon sessions were equally captivating. I first attended "Dirty Pop," a session discussing how to use musical instruments and pop culture to convey historical narratives. I was fascinated by the exclusive clips and the detailed process of bringing Lizzo to the Library of Congress to play historic flutes, culminating in her glass flute performance. My final session of the day was "Stripping the Whitewash," which focused on building community partnerships and amplifying the voices of people of color. I found many parallels to the work I aim to do at my institution, and it equipped me with valuable tools for building stronger relationships.
The following day, I explored Boise in the morning, discovering the Idaho State Museum and stumbling upon the "Art in the Park" event. Upon returning to the conference, I attended the Meeting of the Membership and Leadership in History Awards, where I was inspired by the remarkable projects and connections that received recognition. By the end of the awards ceremony, I felt ready to embark on my own award-winning project. Two more sessions, including "Museums Don't Love You Back," engaged me in deep conversations about addressing DEAI challenges in our institutions. This was followed by a second general session featuring Jorge Zamanillo, the new director of the National Museum of the American Latino, who passionately spoke about the importance of our work for Latinos. His story about the wallet in the boat was truly inspirational, motivating me to push forward and conduct deeper research. To cap off this incredible day, I attended Idaho Pride with my newfound colleagues and friends, celebrating my identity and nurturing deeper connections with fellow history professionals.
Determined to make the most of my time before my mid-day flight, I attended as many sessions as possible on my last day. I delved into discussions on DEAI and equity studies impacting museum and history professionals. Moreover, I was pleasantly surprised to learn that my former graduate professor and a former colleague were presenting, and I couldn't miss their session. Their presentation reminded me of the impact I aspire to create for my community and reinforced the importance of intentional work.
In sum, this conference stands as the most exceptional experience I've ever had. I delved into topics I'm truly passionate about, forged lifelong friendships, and left inspired to pursue intentional and impactful work. I wouldn't trade this experience for anything else in the world, and I wholeheartedly recommend that all historians seize the opportunity to attend this conference!